Suzanne Bertin
Managing Director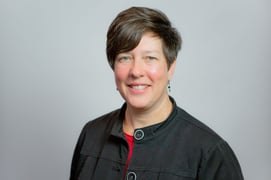 Suzanne Bertin leads TAEBA's efforts to promote the advanced energy industry in the State of Texas. Before joining TAEBA, Suzanne handled regulatory and government affairs in Texas and the Southeast for EnerNOC (now part of Enel NA), a global leader in demand response and energy intelligence software. Suzanne also worked at Reliant (NRG) for more than a decade on a wide range of wholesale and retail legislative and regulatory issues, from the inception of the competitive retail market in ERCOT and through its first eleven years of operation. In these roles, Suzanne has had direct business and policy experience for a range of advanced energy technologies including energy efficiency, demand response, natural gas, solar, wind, electric vehicles, and smart grid.
Suzanne worked in the Office of Policy Development at the Public Utility Commission of Texas during the late 1990s, when the ERCOT competitive retail market was established by Texas Senate Bill 7. She co-led the team responsible for implementing the transition to competition, which encompassed more than 40 regulatory proceedings, many of which were highly complex and contentious. Suzanne also held electrical engineering positions at Austin Energy and at NASA's Johnson Space Center. She holds a Master of Public Affairs degree from the LBJ School of Public Affairs at the University of Texas at Austin. Suzanne also holds a Bachelor of Science in Electrical Engineering and a Bachelor of Arts (Managerial Studies), both from Rice University in Houston, Texas. Suzanne is a lifelong Texan and resides in Austin.
Caitlin Marquis
Director
Caitlin Marquis serves as a technical and strategic expert across multiple initiatives at TAEBA. She leads engagement of the Advanced Energy Buyers Group, a coalition of leading companies that are working to expand their use of advanced energy. Caitlin also supports TAEBA's engagement on wholesale markets. Before joining TAEBA, Caitlin worked at Altenex, LLC (now Edison Energy), helping companies with renewable energy procurement. Caitlin holds a Bachelor of Arts from Harvard College and a Master of Science from Oxford University.
Adam Winer
Communications Director
Adam Winer leads TAEBA's communications operations promoting the advanced energy industry in Texas. He develops and executes communications strategies and oversees the organization's media relations activities to expand awareness and impact of TAEBA's policy priorities. Previously, Adam worked at Consumer Reports where he expanded news coverage of its energy and sustainability advocacy portfolio. Prior to transitioning into strategic communications, Adam spent 10 years as an on-air local television news reporter, working at NBC and ABC affiliates in Florida, Kentucky, and Maryland.
Noah Garcia
Principal
Noah Garcia supports TAEBA's state regulatory work at the Public Utility Commission of Texas to accelerate the deployment of advanced energy and transportation technologies. Prior to joining TAEBA, Noah was a consultant at ICF, where he engaged in alternative vehicle and fuels projects for government and industry clients. Noah received his Masters in Public Policy from Stanford University and a Bachelor of Arts from Stanford University.
Shelby Stults
Principal
Shelby Stults supports TAEBA's state legislative work to drive advanced energy technology adoption and electrify transportation. In this role she works to engage state legislators and coalesce stakeholders to strategically support policy goals. Prior to joining TAEBA, Shelby was a Community Program Coordinator at Utah Clean Energy. While at Utah Clean Energy, she implemented energy efficiency policy in local municipalities, convened stakeholders to support education efforts on advanced energy, and assisted with regulatory priorities that incorporated community feedback in electricity rate case proceedings. Shelby holds Master of Science and Bachelor of Arts degrees, both from The Ohio State University.
Erica Glenn
Policy Associate

Erica Glenn supports several TAEBA initiatives including accelerating transportation electrification, driving advanced energy technology adoption, and supporting legislative and regulatory affairs.
Erica got her start in advanced energy while interning at
Lime Energy
and
New York City Energy Efficiency Corporation (NYCEEC)
advancing energy efficiency goals in New Jersey and New York, and promoting electric vehicle adoption in these states. Erica holds a Masters of Public Administration in Environmental Science and Policy from Columbia University, and also holds a Bachelor of Science in Public Health from Texas A&M University. Erica grew up in Texas.
Prusha Hasan
Policy Associate

Prusha Hasan
supports TAEBA's engagement on wholesale markets, with a particular focus on ERCOT. In this role, Prusha identifies, analyzes, and organizes market rule changes and opportunities to accelerate the transition to an advanced energy economy in Texas. Prior to joining TAEBA, Prusha worked as a graduate student researcher at George Washington University and a business development associate at M-Powered Strategies.
Prusha holds a Master of Public Policy with a concentration in Energy Policy from George Washington University and a Bachelor of Science in Energy Engineering from the American University of
Iraq-Sulaimania
.
Gabriela Olmedo
Policy Associate
Gabriela Olmedo supports TAEBA's legislative and regulatory engagement to drive advanced energy adoption. Prior to joining TAEBA, Gabriela worked as a Policy and Programs Research Intern with the Center for Good Food Purchasing and as a Consultant with the Bay Area Environmentally Aware Consulting Network, where she conducted research and analysis to provide clients with business solutions. Gabriela holds a Bachelor of Science in Society and Environment from the University of California, Berkeley.
Careers
TAEBA is not currently hiring for any new positions at this time.